I am looking for a replacement cell phone that works well. I don't care about Cameras, text messages, TV on cell screen, GPS (I have one), MP3 player or it going my laundry. I just need a phone. I would like one that lasted more than a month, but that is asking too much! I am a Verizion subscriber so getting something compatible with their system is important. I tried other services, they did not work as well in Indianapolis.

Candidates are shown below; Note a simple phone is not available!

I have an additional problem with "Phone Cameras" some business will not allow them in their buildings (industrial espionage). Below is a high rated candidate.
Top Rated - Motorola, Rizr Z6tv (TV is Stupid).

Buy the Motorola MOTORIZR Z6tv and Get up to 3 LG VX5400 phones FREE!
with 2yr activation per phone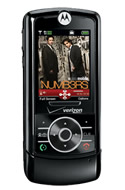 Compare Motorola MOTORIZR Z6tv


2.0 Megapixel Camera
Bluetooth
Premium Pricing Compatible
Removable Memory
V CAST Mobile TV
VZ Navigator
2-yr Contract Price

$179.99

Online Discount
- 50.00
Your Price
$129.99
Accessories;

http://www.1800mobiles.com/motorola-rizr-z6tv-accessories.html

Motorola SYN1630 Mid-Rate Car Charger for Motorola KRZR L6 L7 A1200 Pebl Q U6 V190 V195 V235 V360 V323 V326 and IC602

Regular price: $19.99
Our price: $8.39

______________

1400 mAh Extended Lithium-ion Battery for Motorola RIZR Z6tv w/Door
$24.99 Free Shipping and Door Included.
__________________